AgriFutures Chicken Meat
Australia's chicken meat industry is one of the most efficient in the world.
Through targeted high-impact RD&E projects, the AgriFutures Australia Chicken Meat Program will achieve significant benefits to industry designed to maintain its position as the number one consumed meat in the country.
Key components of the program
Key components of the Chicken Meat Program are increasing productivity and efficiency of production, and delivering safe food and good animal welfare outcomes.
AgriFutures Australia has invested in two new positions – an Extension Officer and a Research Development Officer – to improve the reciprocal flow of information between RD&E and industry.
About the industry
The Australian chicken meat industry is worth $2.87 billion (gross value of production 2018-19), compared to 2.75 billion in 2015-16. The industry has an approximate retail value of around $6.6 billion.
Growth in production and demand for free range chicken meat has been particularly strong over the past five years (approximately 15% of the total market) and this trend is expected to continue.
Chicken meat production in Australia is dominated by a small number of large, vertically integrated, privately owned businesses. Inghams Enterprises (public company) & Baiada Poultry (private) supply 70% of meat chickens. These companies typically contract out the growing of their chickens to independent chicken growers. Approximately 800 contract growers rear about 80% of Australia's meat chickens.
The industry has a strong presence in rural and regional communities, it accounts for 0.46% of employment across Australia directly employing about 58,000 people (full time equivalent) It accounts for 0.45% of Australian GDP. The chicken meat industry purchases around five per cent of all grain grown in Australia.
The industry has many opportunities to capitalise on chicken meat's modest environmental footprint and to further reduce its environmental impacts and emissions.
Continuous improvement, including RD&E to optimise flock performance, efficiency and industry productivity, will be required to enable chicken meat to retain its favourable position as the most affordable and popular meat on the domestic market.
Industry Advisory Panel 
AgriFutures Australia is committed to working with industry to deliver research and development outcomes. We work in partnership with advisory panels to decide on research priorities and to make investment decisions each year.
Funding
The program is funded by statutory levies paid by industry participants. This levy revenue is matched by AgriFutures Australia at up to 0.5% of GVP.
AgriFutures Australia is an essential participant in the Poultry Hub. The Chicken Meat Program also collaborates with other rural research and development corporations.
Research investments are guided by the Chicken Meat R&D Advisory Panel.
RD&E plan
The industry's current RD&E objectives are:
Improving Food Safety of Australian Chicken Meat
Develop and implement measures to improve industry's impact on the environment
Improve chicken meat production through the whole supply chain
Improved ability to meet consumer needs.
Contact
Georgie Townsend
Manager, Research
0438 495 325
georgina.townsend@agrifutures.com.au
About your levy
Australian primary industries that choose to invest in the levies system prescribe the amount of levy or charge applied to a commodity under the Primary Industries (Customs) Charges Act 1999, Primary Industries (Excise) Levies Act 1999, National Residue Survey (Customs) Levy Act 1998 and the National Residue Survey (Excise) Levy Act 1998.
Levy and charge revenue can be directed to biosecurity preparedness and emergency plant pest and animal disease responses, residue testing, marketing and research and development. It is the decision of a primary industry to determine the proportion of how a levy or charge is directed to each of these activities. 
AgriFutures Australia receives the Research & Development levy allocation to invest in line with the industry objectives of the Five Year Research & Development Plan. Up to half of program expenditure, including R&D expenditure, is matched by the Australian Government at up to 0.5% of industry GVP. The graphs below represent the levy breakdown and the annual Program investment inclusive of levy, government and any third party contributions.
The Levy is collected and distributed via the Department of Agriculture. For more information, visit the Department of Agriculture Water and the Environment website.
View the AgriFuturesTM Chicken Meat Program income and expenditure for 2018-19 statement.
*Financials are accurate as at 1 February 2019 and subject to change.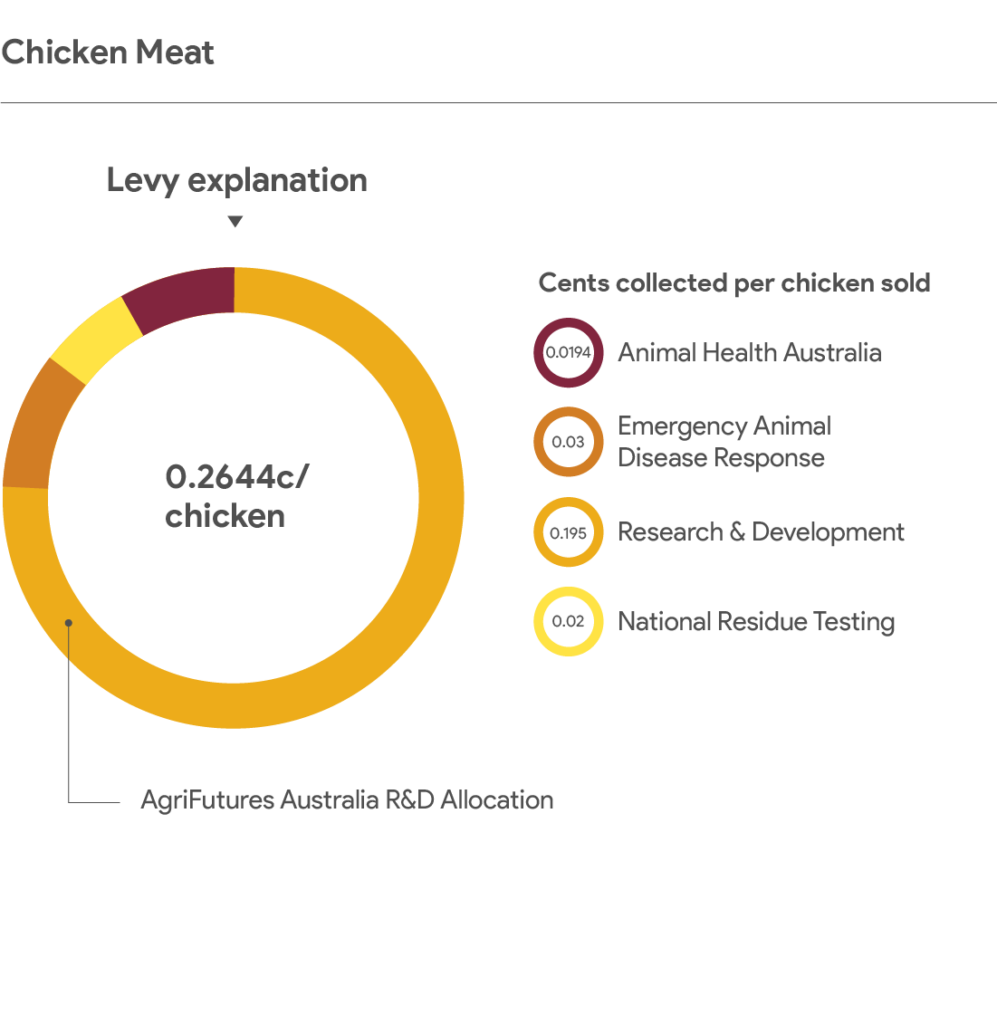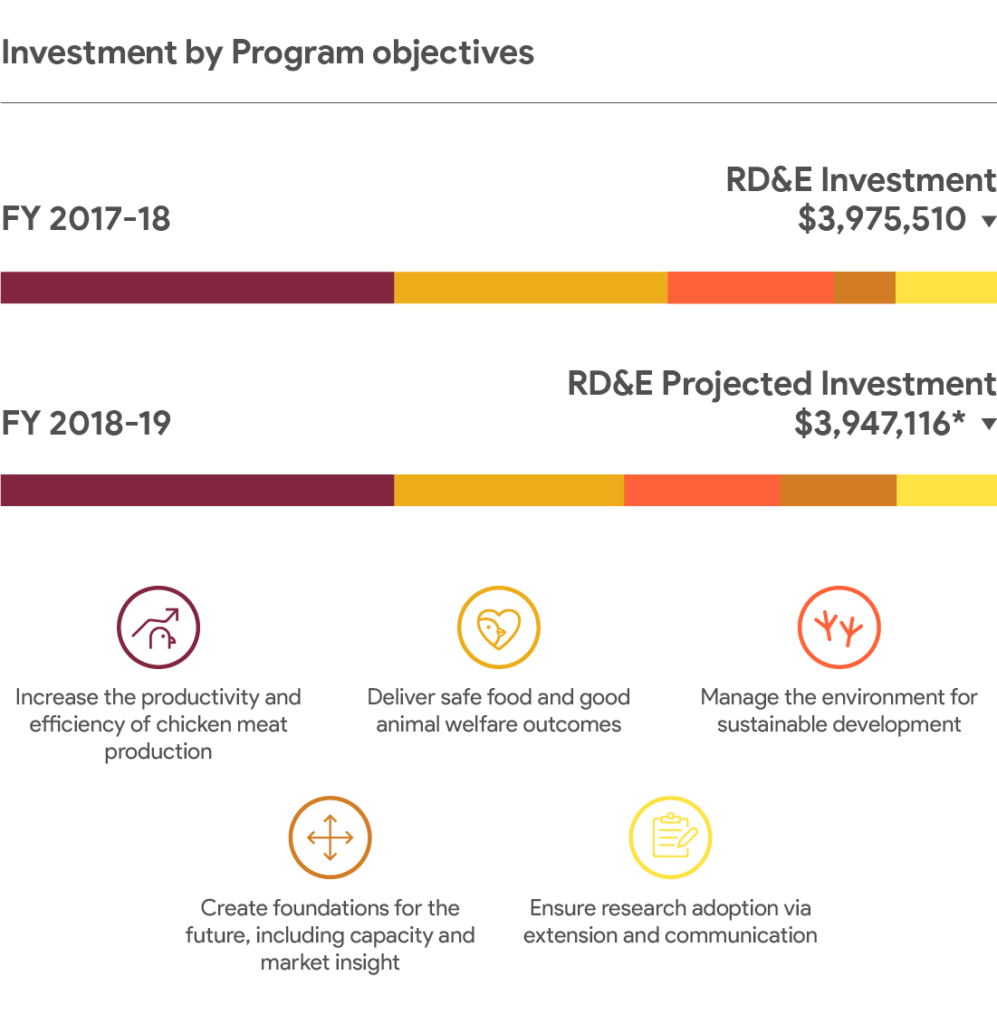 Search regions suitable for chicken meat
Search now
Beak to Beak
Check out all the past issues of our Beak to Beak newsletter.
Read more
Feed Mill Biosecurity guidelines
The Feed Mill Biosecurity guidelines have been developed based on information provided by industry and in conjunction with the Stock Feed Manufacturers' Council of Australia and the Feed Safe® Feed Mill Hygiene Guidelines.
This project (PRJ 010446) was funded through the Agrifutures™ Chicken Meat Program.
Watch Video
Drivers for Innovation in the Poultry Industry
Jessica Pitkin's study found that despite vast amounts of new technology and modern practices available to the poultry industry to improve productivity, shedding efficiency and animal welfare outcomes, the adoption rate of these technologies across Australia and worldwide is generally low.
Download
Tunnel Ventilation Fan Comparison Spreadsheet
This spreadsheet allows growers to input information specific to their farm circumstances and helps them to identify the most efficient and cheapest fan for their situation. This is a companion tool to the publication "Review of fan efficiency in meat chicken sheds".
Download
Ventilation Fan Cost Calculation Spreadsheet
A tool to assist growers to calculate the potential energy and cost savings of replacing fans in their own situation. This tools supports the publication "How to reduce costs and energy by replacing inefficient ventilation fans on meat chicken sheds".
Download
Spreadsheet: Minimum Ventilation for Poultry House Moisture Management
Before opening the "min vent and poultry house tightness calculator - metric (v1.0 beta)" file you must first open the "Poultrypschfunctions" file.
Download