AgriFutures Chicken Meat
Chicken meat is Australia's most consumed source of meat-based protein. With the lowest environmental footprint of all meats, and as the least expensive form of meat protein Australian chicken is loved for its convenience, affordability, and versatility.
To support the continued development and sustainability of the Australian chicken meat industry, AgriFutures Chicken Meat Program invests in targeted, high-impact investment research, development and extension (RD&E) to optimise flock performance, efficiency and industry productivity. Continuous improvement and ongoing RD&E is required to enable chicken meat to retain its position as the most affordable and popular meat on the domestic market.
About the program
The AgriFutures Chicken Meat Program's purpose is to invest in RD&E to increase knowledge and understanding that fosters an innovative, adaptive and valuable chicken meat industry in Australia. The vision is to grow the long-term prosperity of the Australian chicken meat industry.
Objectives for the Program are focused on four key areas – the food, the environment, the chicken and the consumer.
• Improving food safety of Australian chicken meat.
• Developing and implementing measures to improve the industry's impact on the environment.
• Improving chicken meat production through the whole supply chain.
• Improving the industry's ability to meet consumer needs.
Also crucial to the Program are the activities that enable the Australian chicken meat industry to prosper including, providing training and capacity building opportunities and ensuring that the levy investment delivers value to industry participants.
Australia's chicken meat industry
The chicken meat industry makes a significant contribution to the Australian economy with a gross value of production (GVP) over $2.85 billion per annum. It provides direct employment to more than 58,000 people (full-time equivalent), many in rural and regional communities.
Chicken meat production in Australia is dominated by a small number of large, mostly privately owned businesses. These companies typically contract out the growing of their chickens to independent chicken growers. Approximately 800 contract growers rear about 80 per cent of Australia's meat chickens.
The industry is mature and vertically integrated with a few key producers, which means it can continue to rapidly adopt new technologies.
RD&E Plan
AgriFutures Strategic RD&E Plans guide the Program's investments.
Developed in consultation with industry, research and government, the AgriFutures Chicken Meat Program RD&E Plan 2019-2022 focuses on four key objectives.
1. Improve food safety of Australian chicken meat
2. Develop and implement measures to improve industry impact on the environment
3. Improve chicken meat production through the whole supply chain
4. Improved ability to meet consumer needs.
Industry Advisory Panel
AgriFutures Australia is committed to working with the levied industries we serve to deliver research and development outcomes to grow the long-term prosperity of these industries. We work closely with Advisory Panels in our larger levied industries to identify research priorities and make Program investments.
Industry Advisory Panels are key to guiding and assisting AgriFutures Australia investments. They do this by:
Advising on the industry requirements for RD&E through the development and monitoring of RD&E Plans.
Identifying and prioritising RD&E opportunities and activities to address industry issues and the priorities described in the Programs' Strategic RD&E Plan.
Providing feedback and investment recommendations on RD&E proposals submitted to AgriFutures. The Advisory Panel must ensure the proposal is aligned to the priorities in the Program's Strategic RD&E Plan before making a recommendation.
Advising on, and assisting in, the dissemination, adoption and commercialisation of the results of RD&E activities.
Industry Advisory Panels are representative of the RD&E programs implemented by AgriFutures Australia. Advisory Panel members are selected on a skills-basis and may contribute with capacities in strategic management, governance, industry-specific knowledge, science, technology, leadership and ethics. AgriFutures Australia encourages diversity through age, gender and geographic location, working with specific industry sectors to foster leadership skills to support succession planning for future panel members.
Members of AgriFutures Australia's Advisory Panels are selected following a public recruitment process which involves a competitive skills-based assessment and/or consultation with key industry bodies and stakeholders.
Contact
Annie Lane
0455 320 127
annie.lane@agrifutures.com.au
Sarika Pandya
0419 787 219
sarika.pandya@agrifutures.com.au
About your levy
Australian primary industries that choose to invest in the levies system prescribe the amount of levy or charge applied to a commodity under the Primary Industries (Customs) Charges Act 1999, Primary Industries (Excise) Levies Act 1999, National Residue Survey (Customs) Levy Act 1998 and the National Residue Survey (Excise) Levy Act 1998.
Levy and charge revenue can be directed to biosecurity preparedness and emergency plant pest and animal disease responses, residue testing, marketing and research and development. It is the decision of a primary industry to determine the proportion of how a levy or charge is directed to each of these activities. 
AgriFutures Australia receives the research and development (R&D) levy allocation to invest in line with the industry objectives of the respective program's Strategic Plan. The Levy is collected and distributed via the Department of Agriculture. For more information, visit the Department of Agriculture Water and the Environment website.
AgriFutures Australia also receives Commonwealth matching funding based on 0.5% of the aggregate GVP of all AgriFutures Australia's levied industries (Arena 3) or half of AgriFutures Australia's eligible expenditure – whichever is the lesser. This includes expenditure in non-levied industries Arenas 1, 2 and 4 irrespective of their funding source.
AgriFutures Australia's Board allocates the Commonwealth matching funding to each levied industry program. The respective programs will receive 50c per dollar of eligible expenditure (subject to availability of Commonwealth matching funding).
The total program budget comprises of the R&D levy allocation, Commonwealth matching funding (allocated by the AgriFutures Australia Board) and third party contributions (where appropriate).
View the AgriFutures Chicken Meat Program income and expenditure for 2020-21 statement.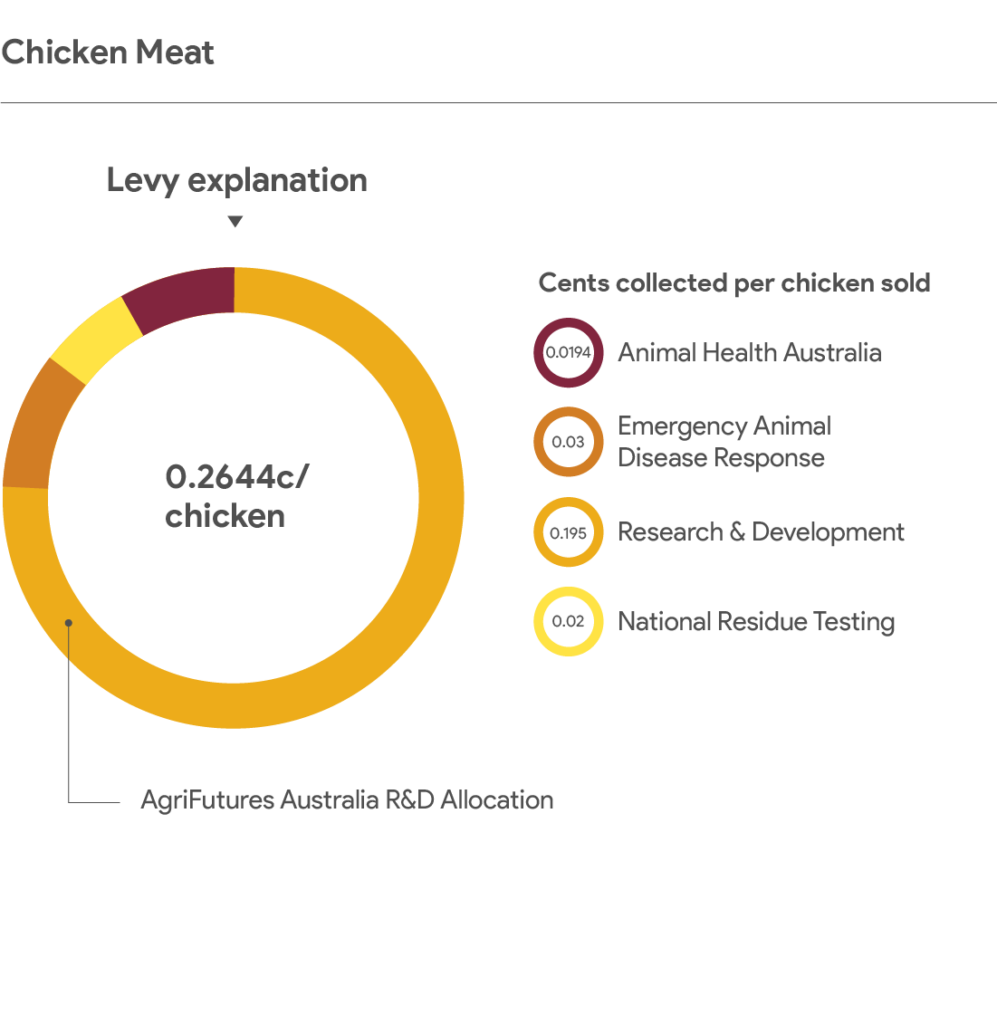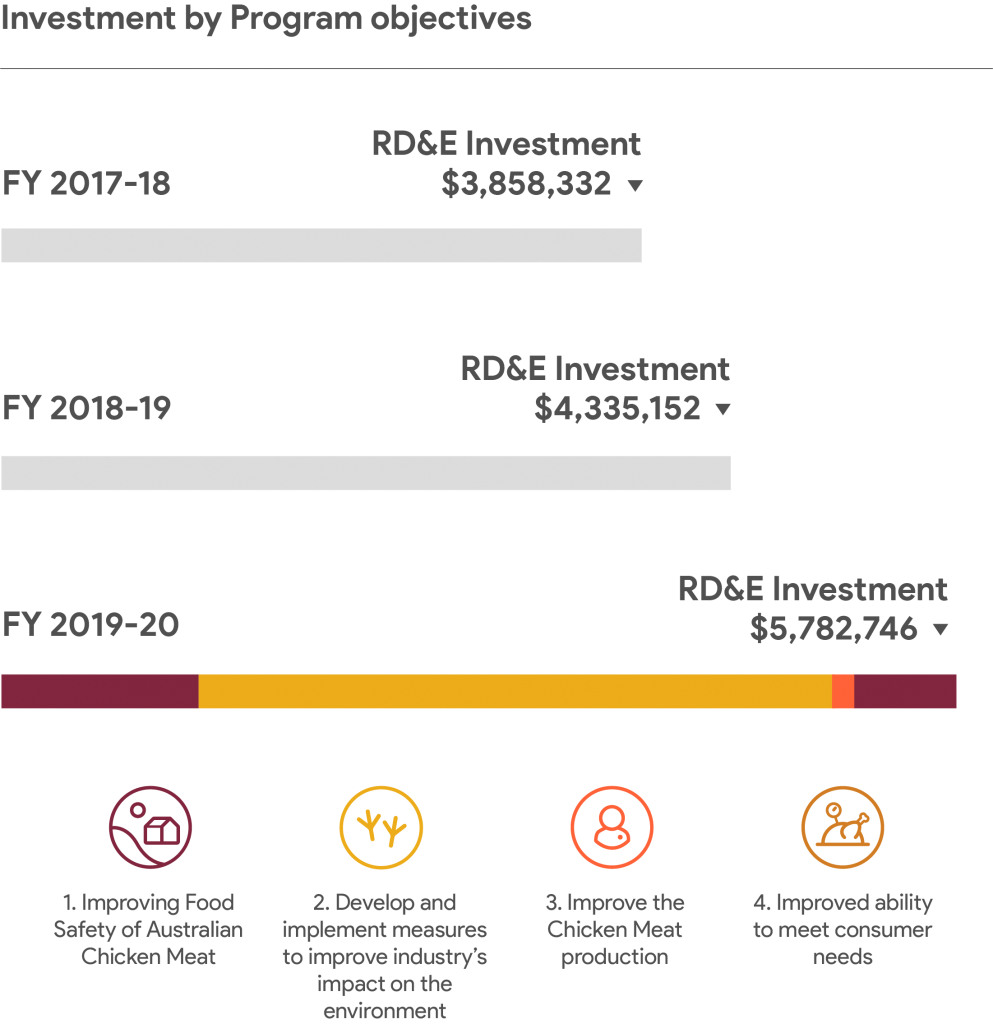 Tunnel Ventilation Fan Comparison Spreadsheet
This spreadsheet allows growers to input information specific to their farm circumstances and helps them to identify the most efficient and cheapest fan for their situation. This is a companion tool to the publication "Review of fan efficiency in meat chicken sheds".
Download
Ventilation Fan Cost Calculation Spreadsheet
A tool to assist growers to calculate the potential energy and cost savings of replacing fans in their own situation. This tools supports the publication "How to reduce costs and energy by replacing inefficient ventilation fans on meat chicken sheds".
Download
Spreadsheet: Minimum Ventilation for Poultry House Moisture Management
Before opening the "min vent and poultry house tightness calculator - metric (v1.0 beta)" file you must first open the "Poultrypschfunctions" file.
Download