AgriFutures Thoroughbred Horses
Commencing in the 2017-18 financial year, a new levy will support priority research, development and extension activities to address thoroughbred industry challenges and opportunities.
This levy provides greater certainty about future RD&E funding for investment in longer term projects.
Key components of the program
Along with breeding productivity and research into reducing horse diseases and parasites, the program may explore:
Research to reduce injury and breakdown of horses in work and training
Improve the safety of industry participants
Enhance the environmental sustainability of the industry.
About the industry
Australia has the second largest thoroughbred breeding industry in the world after the United States, with 660 stud farms across the country, predominantly in NSW, Victoria and Queensland.
These stud farms supply thoroughbred horses to both the domestic and overseas markets. In the 2014–15 season, 19,368 mares were covered to produce 12,871 live foals.
Australia stages more races with more runners than most of Western Europe combined, with Australian-bred mare Winx the top-rated racehorse on turf in the world in 2017.
The thoroughbred racing industry is worth approximately $5 billion/annum to the Australian economy, and employs more than 65,000 people, particularly in rural and regional areas.
Funding
The program is funded by statutory levies paid by industry participants which are matched dollar for dollar by the Australian Government (up to 0.5%  of the industry's GVP).
The levy will be set at a rate of $10/mare covered per season, paid by the stallion owner and $10/mare returned per season, paid by the broodmare owner.
The levy is expected to collect $400,000 from the industry per annum.
Industry Advisory Panel
AgriFutures Australia is committed to working with industry to deliver research and development outcomes. We work in partnership with advisory panels to decide on research priorities and to make investment decisions each year.
RD&E plan
AgriFutures Australia is currently developing a five-year RD&E plan for the AgriFutures™ Thoroughbred Horses Program.
AgriFutures Australia has undertaken R&D for the broader horse industry since 1995, and delivered valuable outcomes such as improvements in equine neonatal care​.
Program news
Contact
Annelies McGaw
Manager, Research
02 6923 6913
0407 987 738
Annelies.McGaw@agrifutures.com.au
About your levy
Australian primary industries that choose to invest in the levies system prescribe the amount of levy or charge applied to a commodity under the Primary Industries (Customs) Charges Act 1999, Primary Industries (Excise) Levies Act 1999, National Residue Survey (Customs) Levy Act 1998 and the National Residue Survey (Excise) Levy Act 1998.
Levy and charge revenue can be directed to biosecurity preparedness and emergency plant pest and animal disease responses, residue testing, marketing and research and development. It is the decision of a primary industry to determine the proportion of how a levy or charge is directed to each of these activities.
AgriFutures Australia receives the Research & Development levy allocation to invest in line with the industry objectives of the Five Year Research & Development Plan. Up to half of program expenditure, including R&D expenditure, is matched by the Australian Government at up to 0.5% of industry GVP. The graphs below represent the levy breakdown and the annual Program investment inclusive of levy, government and any third party contributions.
There is currently no direct investment in Objective 4: Promote education and training for the horse industry through opportunities for training researchers and by effective communication of RD&E to horse industry stakeholders. At this stage of the Interim Thoroughbred Hoses RD&E Plan 2017-2022, the Advisory Panel has decided to focus on research outcome based projects.
The Levy is collected and distributed via the Department of Agriculture. For more information, visit the Department of Agriculture Water and the Environment website.
View the AgriFuturesTM Thoroughbred Horses Program income and expenditure for 2018-19 statement.
 *Financials are accurate as at 1 February 2019 and subject to change.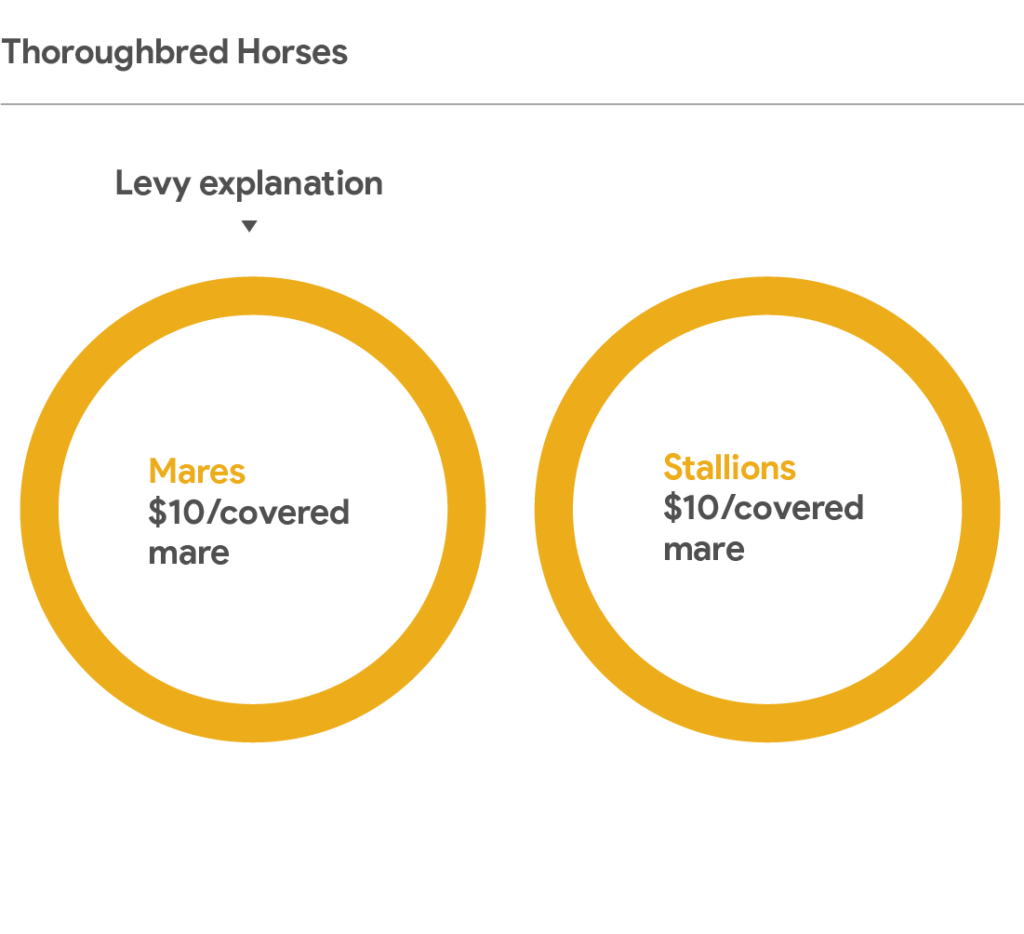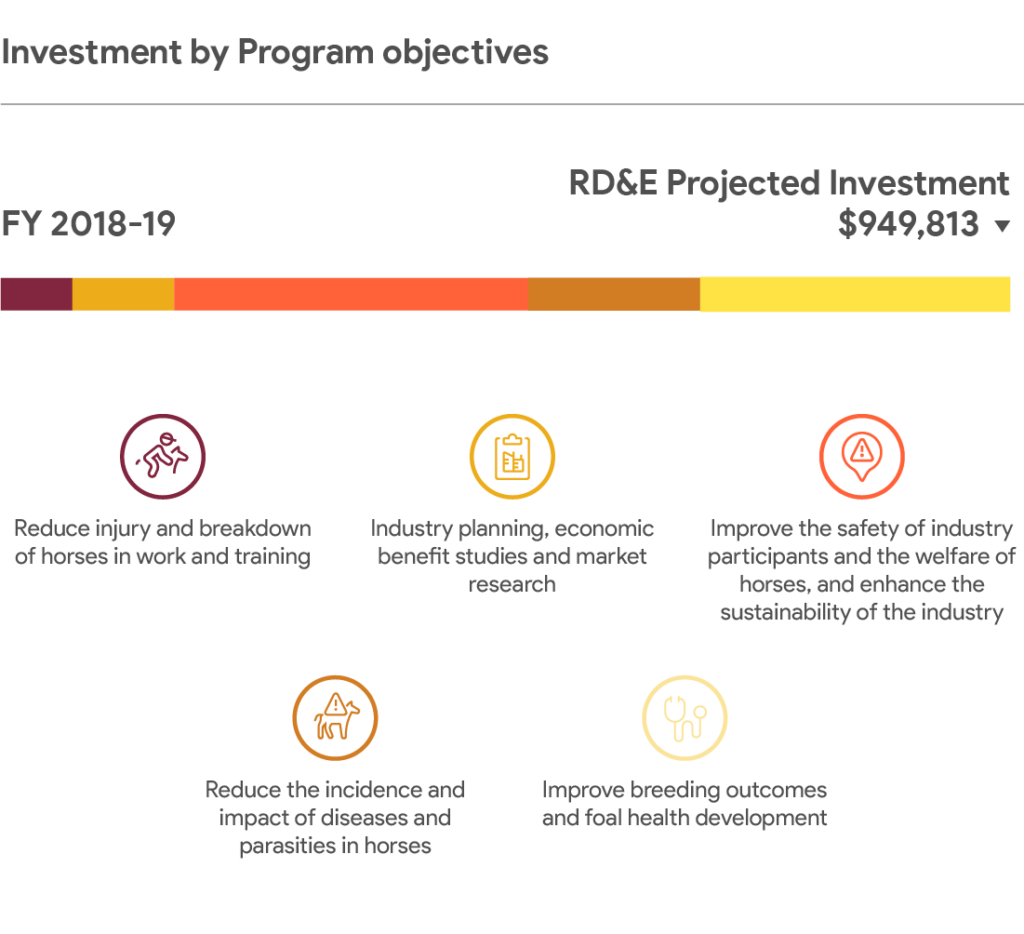 Search regions suitable for thoroughbred horses
Search now
AgriFutures™ Thoroughbred Horses Program Industry Update Vol.1 No.5
Project updates from our AgriFutures™ Thoroughbred Horses Program.
Download
AgriFutures™ Thoroughbred Horses Program Industry Update Vol.1 No.4
Program updates from our AgriFutures™ Thoroughbred Horses Program.
Download
AgriFutures™ Thoroughbred Horses Program Industry Update April 2019
Project updates from our AgriFutures™ Thoroughbred Horses Program.
Download