AgriFutures Rice
The AgriFutures™ Rice Program aims to improve the profitability and sustainability of the Australian rice industry with a key focus on water use efficiency and varieties that deliver increased yield and improved eating quality.
Key components of the program
A key component of this program is rice variety breeding to further reduce demand for irrigation water and adapt to a climate that is hotter, drier and more variable.
About the industry
The Australian rice industry is a world leader in production efficiency, water use efficiency and environmental management.
Australia's climate makes it ideal for the production of high quality medium grain rice and Australian growers produce more rice per hectare than anywhere else in the world. Australian rice achieves premium prices in world markets thanks to our research outcomes.
From paddock to plate, Australian grown rice uses 50% less water than the global average. Water use per hectare continues to decline because of the industry's commitment to developing high yielding rice varieties that use less water, and the use of world's best management practices.
With the capacity to produce more than 1 million tonnes of rice/ year, Australian growers play an important role in food security as rice sustains two-thirds of the world's population.
There are around 1500 farm businesses growing rice in the Murrumbidgee Valley of NSW and the Murray Valley of NSW and Victoria.
Funding
The program is funded by statutory levies paid by industry participants. Up to half of program expenditure, including R&D expenditure, is matched by the Australian Government at up to 0.5% of industry GVP.
2019 Rice Industry Awards
The inaugural 2019 Rice Industry Awards is a new initiative aimed at bringing growers and industry together to celebrate the current and future success of the rice industry. Learn more about partnership opportunities and how you can get involved.
RD&E plan
The Rice Industry R&D Plan 2016/17-2021/22 builds on previous five-year investment programs. A significant share of the RD&E that underpins the rice industry success has been managed by AgriFutures Australia since 1991. The Australian rice industry is strongly supportive of the RD&E program and its management by AgriFutures Australia.
The plan identifies four key objectives for RD&E:
Rice breeding – varietal and quality improvement
Development of an aerobic rice system
Farm productivity – crop inputs, crop protection and the farming system
Extension, communication and partnership development.
Research open call
AgriFutures Australia seeks research project proposals through an open call process aligned with individual program research priorities. An open call will not be conducted within the AgriFutures™ Rice Program during 2018/19 due to drought conditions that have impacted program income.
Industry Advisory Panel
AgriFutures Australia is committed to working with industry to deliver research and development outcomes. We work in partnership with advisory panels to decide on research priorities and to make investment decisions each year.
Program news
Contact
John Smith
Senior Manager, Research
0437 179 359
John.Smith@agrifutures.com.au
About your levy
Australian primary industries that choose to invest in the levies system prescribe the amount of levy or charge applied to a commodity under the Primary Industries (Customs) Charges Act 1999, Primary Industries (Excise) Levies Act 1999, National Residue Survey (Customs) Levy Act 1998 and the National Residue Survey (Excise) Levy Act 1998.
Levy and charge revenue can be directed to biosecurity preparedness and emergency plant pest and animal disease responses, residue testing, marketing and research and development. It is the decision of a primary industry to determine the proportion of how a levy or charge is directed to each of these activities.
AgriFutures Australia receives the Research & Development levy allocation to invest in line with the industry objectives of the Five Year Research & Development Plan. Up to half of program expenditure, including R&D expenditure, is matched by the Australian Government at up to 0.5% of industry GVP. The graphs below represent the levy breakdown and the annual Program investment inclusive of levy, government and any third party contributions.
Currently there is no direct investment in Objective 1: Development of an Aerobic Southern Rice System. There are aspects of two rice breeding projects and one farm productivity project that contribute to the objective.
The Levy is collected and distributed via the Department of Agriculture and Water Resources. For more information, visit the DAWR website.
 *Financials are accurate as at 1 February 2019 and subject to change.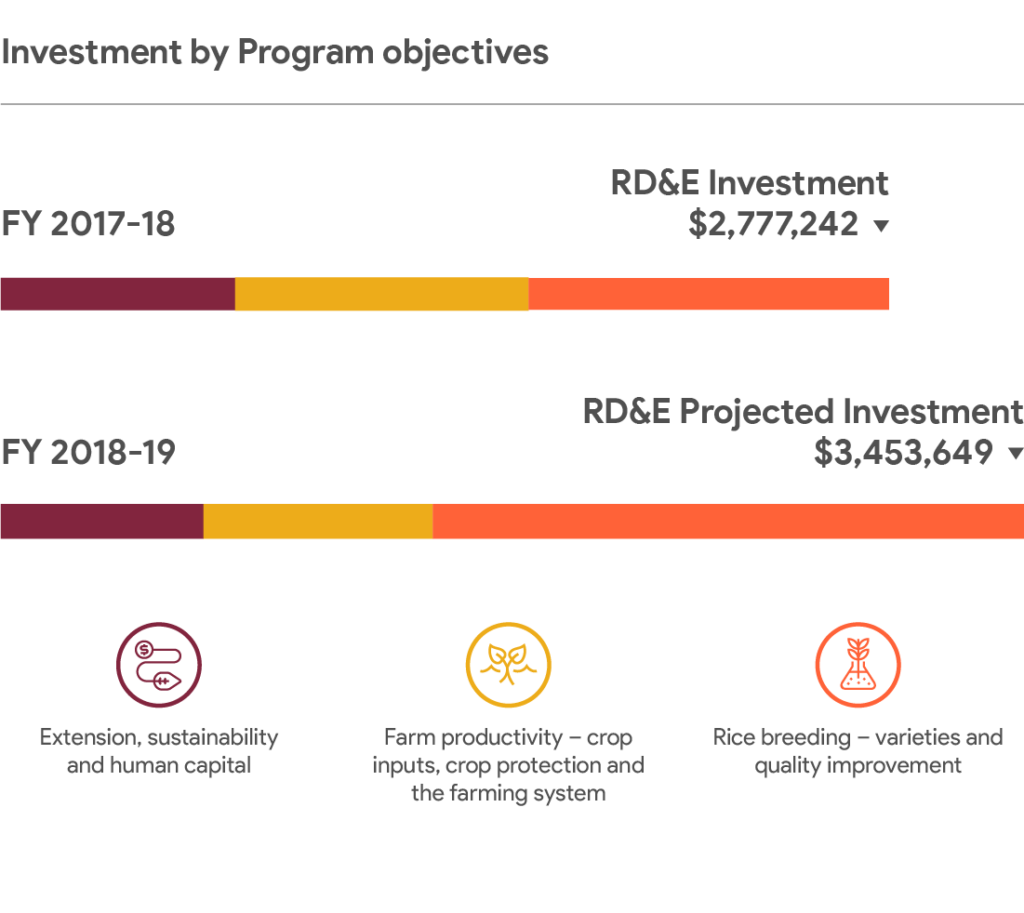 AgriFutures™ Rice Program Industry Update April 2019
Project updates from our AgriFutures™ Rice Program.
Download
AgriFutures™ Rice Program Industry Update January 2019
Project updates from our AgriFutures™ Rice Program.
Download
AgriFutures™ Rice Program Industry Update November 2018
Project updates from our AgriFutures™ Rice Program.
Download
Grower case studies
To support research and development in the rice industry, Rice Extension have developed a series of grower case studies focused on grower innovation, agronomic advice, natural resource management information, farm business systems and growing guidelines.
Read more