AgriFutures Tea Tree Oil
The AgriFutures™ Tea Tree Oil Program aims to conduct RD&E that contributes to the profitability, sustainability and productivity of this levied industry.
In consultation with industry, AgriFutures Australia has developed a tea tree oil five-year plan for the levy funded program which commenced on 1 July 2017. The program will invest in research focused on tea tree breeding, processing and market access.
Key components of the program
The program invests in research to develop the industry in growing tea tree, processing and overcoming post farm gate market access barriers in accordance with a five-year planning process.
About the industry
Tea tree oil is extracted from Melaleuca alternifolia grown in plantations and distilled via steam injection. Tea tree oil has a range of uses, can be found in cosmetics, personal health care and animal care products, and is recognised by consumers and manufacturers for its effectiveness.
Tea tree is tolerant of coastal acid sulphate soils and can be grown on inland cropping country. Most plantations are located in the coastal region of northern NSW and the Atherton Tablelands of Queensland.
Our investment in the tea tree breeding program over the past 25 years has resulted in the near doubling of plantation yield. These investments have also delivered efficiencies in harvesting, distillation, storage and marketable oil benefits.
Key challenges for the Australian tea tree oil industry is to continue to improve profitability and increase demand. Reducing costs of production is also important to maintaining Australia's competitive advantage. As price increases and demand continue to grow, new plantings in China have potential to impact on commercial competitiveness of Australian-grown oil.
Industry Advisory Panel
AgriFutures Australia is committed to working with industry to deliver research and development outcomes. We work in partnership with advisory panels to decide on research priorities and to make investment decisions each year.
Funding
There is a statutory levy on tea tree oil.
RD&E Plan
To assist the industry to meet its challenges, the objectives for the AgriFutures™ Tea Tree Oil Program include:
Improving supply
Increasing demand
Extension, sustainability and human capital.
Program news
Contact
Gae Plunkett
Manager, Research
02 6923 6915
0490 091 856
gae.plunkett@agrifutures.com.au
Industry Association
About your levy
Australian primary industries that choose to invest in the levies system prescribe the amount of levy or charge applied to a commodity under the Primary Industries (Customs) Charges Act 1999, Primary Industries (Excise) Levies Act 1999, National Residue Survey (Customs) Levy Act 1998 and the National Residue Survey (Excise) Levy Act 1998.
Levy and charge revenue can be directed to biosecurity preparedness and emergency plant pest and animal disease responses, residue testing, marketing and research and development. It is the decision of a primary industry to determine the proportion of how a levy or charge is directed to each of these activities.
AgriFutures Australia receives the Research & Development levy allocation to invest in line with the industry objectives of the Five Year Research & Development Plan. Up to half of program expenditure, including R&D expenditure, is matched by the Australian Government at up to 0.5% of industry GVP. The graphs below represent the levy breakdown and the annual Program investment inclusive of levy, government and any third party contributions.
The Levy is collected and distributed via the Department of Agriculture and Water Resources. For more information, visit the DAWR website.
 *Financials are accurate as at 1 February 2019 and subject to change.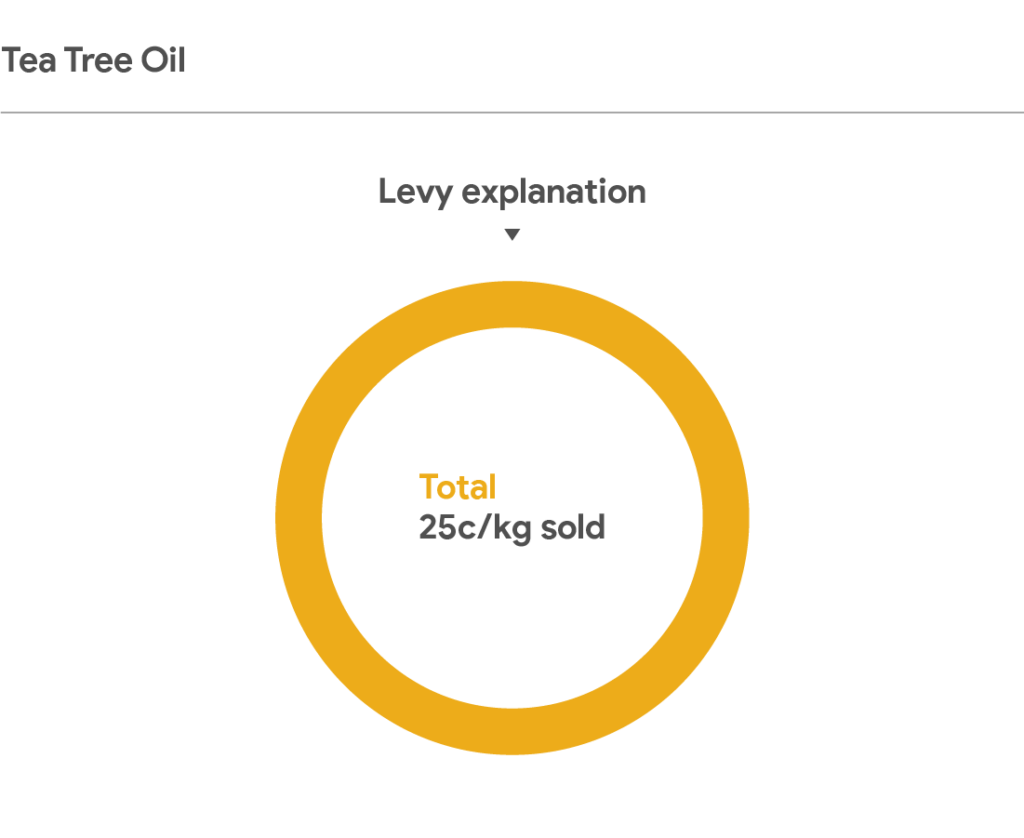 Search regions suitable for tea tree oil
Search now
AgriFutures™ Tea Tree Oil Program Industry Update Vol.1 No.3
Program updates from our AgriFutures™ Tea Tree Oil Program.
Download
AgriFutures™ Tea Tree Oil Program Industry Update Vol.1 No.2
Project updates from our AgriFutures™ Tea Tree Oil Program.
Download
AgriFutures™ Tea Tree Oil Program Industry Update Vol.1 No.1
Project updates from our AgriFutures™ Tea Tree Oil Program.
Download