AgriFutures Pasture Seeds
The AgriFutures Pasture Seeds Program invests in RD&E that maximises opportunities and minimises risks for a profitable and sustainable pasture seeds industry with a reputation for reliable supply of quality pasture species.
Key components of the program
Key components of this program include improving seed production and processing efficiencies and investing in pasture seed market development.
About the industry
The AgriFutures Pasture Seeds RD&E Program is concerned with certified temperate pasture species, including medics, lucerne, serradella, sub-clover and clover.
The importance of this industry to Australia lies in its contribution to the productivity of other agricultural sectors. Certified temperate pasture seed (seed produced and processed to meet quality scheme requirements) contributes to the productivity of pasture based livestock industries including beef, sheep and dairy. Sown pastures provide break crop benefits to the grains industry and temperate pastures provide cut fodder for the dairy and equine industries.
There are approximately 500 growers of temperate pasture seed in Australia. Annual production of seed from these species has been estimated at 20,600 tonnes excluding farmer-to-farmer seed sales, while the annual production of certified temperate pasture seed has been estimated at 8500 tonnes.
Total pasture seeds industry gross value of production (GVP) was estimated at $107 million in 2013 with leviable crops valued at $36 million. More than 70% of total industry GVP was generated in export markets. Pasture seed exports were dominated by sales of certified lucerne seed to Saudi Arabia. Other important export markets include Argentina, the US, China and Italy.
Industry Advisory Panel
AgriFutures Australia is committed to working with industry to deliver research and development outcomes. We work in partnership with advisory panels to decide on research priorities and to make investment decisions each year.
Funding
The program is funded by statutory levies paid by industry participants. Half of program expenditure, including R&D expenditure, is matched by the Australian Government at up to 0.5% of industry GVP.
RD&E plan
The Pasture Seeds Program RD&E Plan 2019-2023 has four main objectives:
Production and processing efficiency and profitability
Sustainable certified temperate pasture seed production
Connectivity and communication
Building industry capability and capacity.
The AgriFutures Pasture Seeds Program is overseen by the Pasture Seeds Advisory Panel, with a primary focus on those pasture seeds levied to fund the program.
Program news
Contact
Annelies McGaw
Manager, Research
02 6923 6913
0407 987 738
Annelies.McGaw@agrifutures.com.au
About your levy
Australian primary industries that choose to invest in the levies system prescribe the amount of levy or charge applied to a commodity under the Primary Industries (Customs) Charges Act 1999, Primary Industries (Excise) Levies Act 1999, National Residue Survey (Customs) Levy Act 1998 and the National Residue Survey (Excise) Levy Act 1998.
Levy and charge revenue can be directed to biosecurity preparedness and emergency plant pest and animal disease responses, residue testing, marketing and research and development. It is the decision of a primary industry to determine the proportion of how a levy or charge is directed to each of these activities.
AgriFutures Australia receives the Research & Development levy allocation to invest in line with the industry objectives of the Five Year Research & Development Plan. Up to half of program expenditure, including R&D expenditure, is matched by the Australian Government at up to 0.5% of industry GVP. The graphs below represent the levy breakdown and the annual Program investment inclusive of levy, government and any third party contributions.
Currently, there is no direct investment in Objective 4: Building Industry capability and capacity. There are aspects of multiple projects that could fit under this objective.
The Levy is collected and distributed via the Department of Agriculture. For more information, visit the Department of Agriculture Water and the Environment website.
View the AgriFutures Pasture Seeds Program income and expenditure for 2018-19 statement.
*Financials are accurate as at 1 February 2019 and subject to change.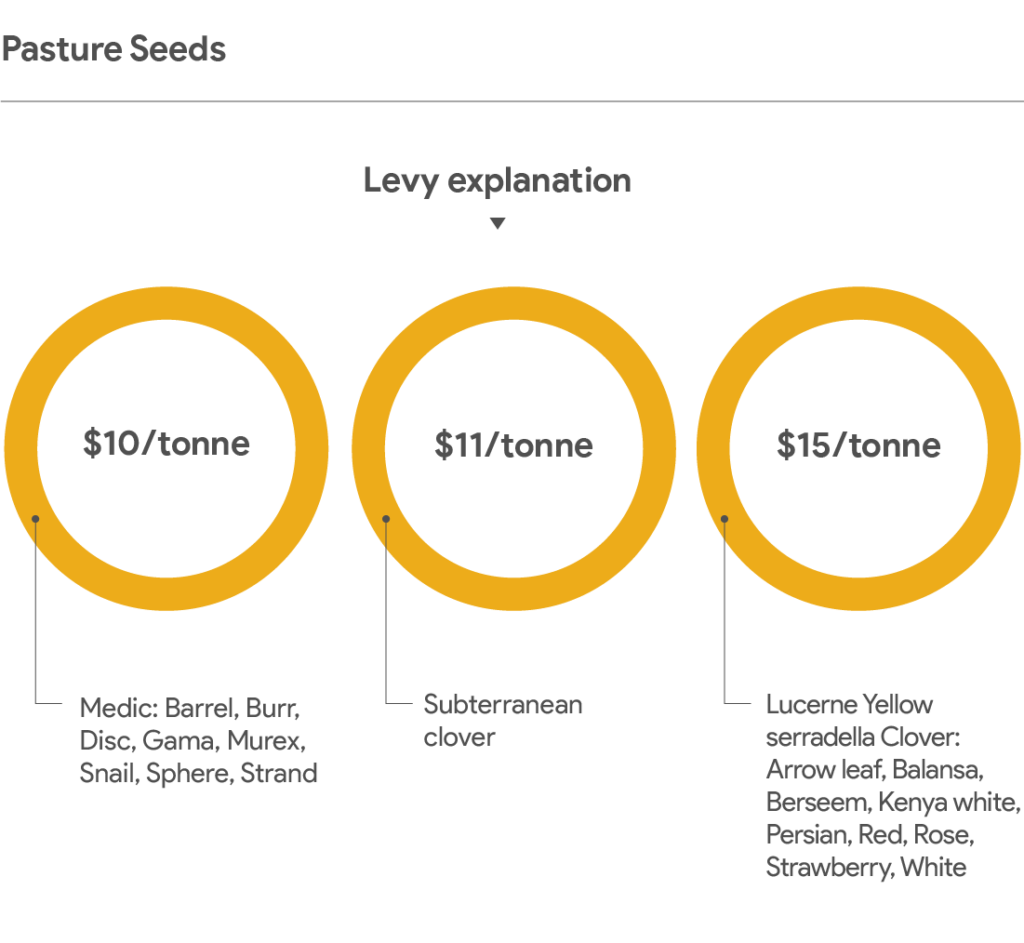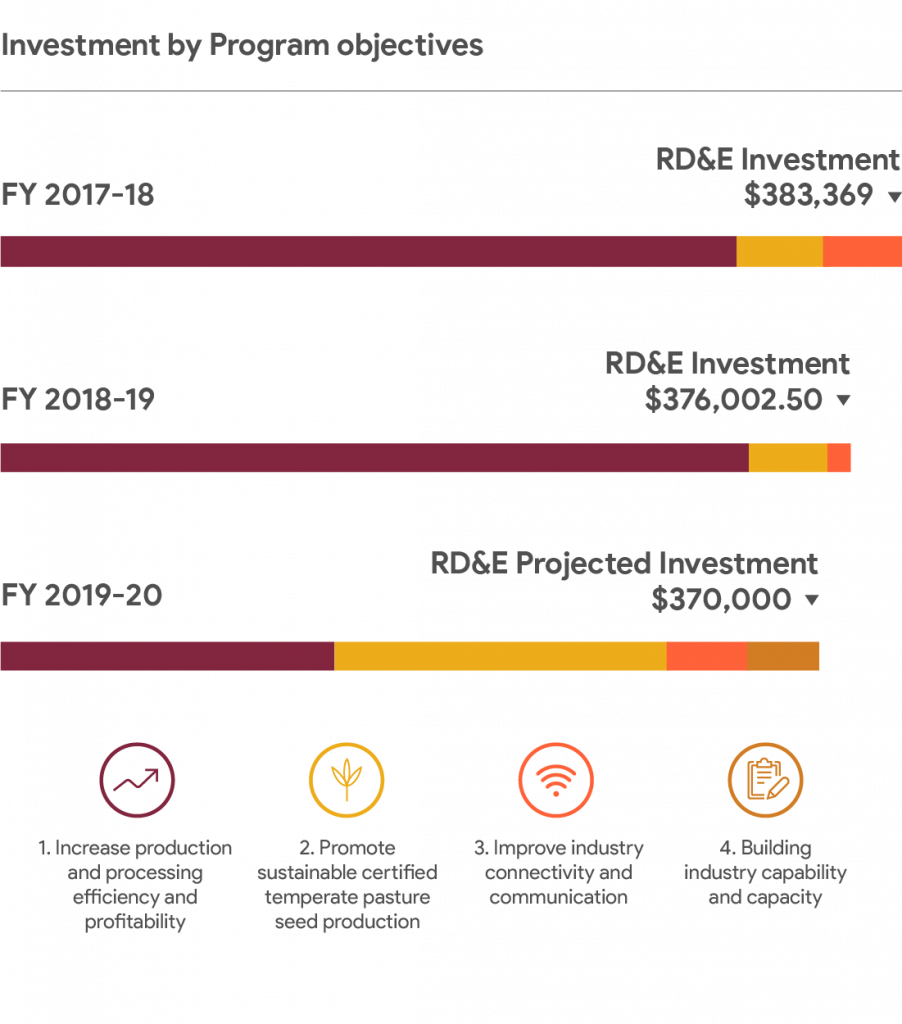 Search regions suitable for pasture seeds
Search now
AgriFutures Pasture Seeds Program Industry Update Vol.1 No.5
Download
AgriFutures Pasture Seeds Program Industry Update Vol.1 No.4
The latest news from from our AgriFutures Pasture Seeds Program.
Download
AgriFutures Pasture Seeds Program Industry Update Vol.1 No.3
Project updates from our AgriFutures Pasture Seeds Program.
Download